"Sea-Monkeys are the perfect pet. You don't have to walk them, you barely even have to feed them and they don't leave any nasty surprises in your slippers."- Chuckie's dad Chaz on Rugrats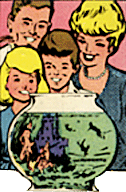 Planet X: Mr. Von Braunhut?
Harold Von Braunhut: Yes?
PX: I'm Erik Lobo for Planet X magazine. How do you do?
HVB: Fine, how are you?
PX: Fantastic! I finally got through to you. I hope you're feeling better.
HVB: Yes, thank you.
PX: Well I'm real glad we could meet today. To start off, I'd like you to answer a few questions about your amazing live Sea-Monkeys.
HVB: Okay.

PX: They were first called Instant Life?
HVB: Yes. Because we were able to get it to come to life right away, we called it instant life. I thought the animals themselves needed a name . . . Because they had these little monkey-like tails when they grow, we changed the name to Sea-Monkeys and it worked fine.
PX: When did you realize that you had a cultural icon on your hands? Sea-Monkeys are a part of Americana, bigger than Hula Hoops and poodle skirts!
HVB: Oh, it took a long time. It's a little bit like the story of the Wright brothers. Nobody believed it! (Laughs) And selling it? It was not an overnight sensation for the simple reason that there was too much incredulity and the buyers simply wouldn't buy it! So I came up with a different strategy that worked fine.

Sea-Monkeys were first
marketed under the name
"Instant Life".
PX: What was your new strategy?
HVB: I went directly to the public. I went to the kids in the comic books, I wrote some ads about Sea-Monkeys . . . just a sec . . . (silence)
PX: Mr. Von Braunhut? Are you there?
HVB: I lost the call. I'm all right now. I went to the comic books. In those days most toy manufacture's who were addressing the market trying to reach . . . just a sec . . .
(The voice of Mr. Von Braunhut's secretary breaks through) Erik? He's having difficulty with the connector on his hearing aid. We have a parrot and she likes to eat the cord!"
HVB: Hello, I got it back on again. I had a little problem here.
PX: I heard your parrot bit the cord?
HVB: Yeah, I have a cockatoo, and I have a cord that connects my hearing aid to the phone . . . I got a short circut.
PX: Does she sit on your shoulder, like a pirate?
HVB: No, right now she's somewhere else. She's a member of the family, you could call her that, I suppose. They're very intelligent. Unfortunately they've got too much curiosity. They do all kinds of horrible things. You can't stop them either. Uh, they're something else. Anyway, as I was saying , I wrote some ads about Sea-Monkeys.